Testimonials:

"Being taught by Leah Hinchcliff is one of my most favorable experiences.  She makes music available in wonderous ways!  Take a lesson from her as soon as you can"  Camille Solyagua  Bass

"Lessons are always fun with Leah.  I used to not know anything on guitar, but now I'm playing the songs I enjoy listening to on my Ipod.  She's a great, funny, teacher who always listens to you, plus we share the same birthday!"  Nick, 12  Guitar, 3 years

"Leah Hinchcliff is the Femme Fatale of Funk"  The Olympian

"You've got to be the funkiest woman on two feet...thanks for bringing the funk with Soul Vac tonight!"  Les Hutchinson, Portland Drummer

"She is definitely the funkiest bass player I've seen in the entire country in the past 2 years!  I'm also a bassist and can tend to be more critical than most people about how a band sounds, but I was more than humbled by her playing." Pat Ferris, Hot Band

"Leah Hinchcliff is the embodiment of coolness.  Smart, funny and incredibly talented! I love hearing her play!!!"  Lynette Jensen,
 Education Center Director, Beacock Music
I perform  regularly in the NW with totally awesome people.  
Ma Fondue -- funk/soul outfit
Gerle Haggard -- all Gerle, all Merle
The Bylines -- pop, jazz, eclectic
Sonny Hess -- Blues, Funk
Mama's Kitchen -- Boogaloo

school of music, offers a variety of Classes and Workshops, at different levels, for different ages, to help you   on your way to full Rockability.

With co-founder Nick O'Donnell, ROCK U was created to bring the group experience to everyone that wants to be in a real band.  Every class culminates in a public performance.

Classes available for kids and adults.

for more info: www.rockurocks.com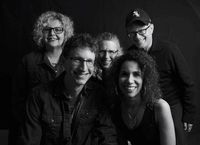 Do you like the funky or the soul music?  Jazz, blues, R&B more your bag? Of course, Everybody loves the NOLA vibe.  We got it all covered, because we like all of those things too.  We play songs that make you want to shake your booty; Dancing is highly encouraged, toe tapping is acceptable.  We play classic R&B like Sam and Dave and Bobby Womack.  Sharon Jones is a favorite too. Her backing  band, The Dap Kings, are funky as hell.  We also like to be funky as hell.  New Orleans inspiration, Jon Cleary and Americana Soul purveyors, the  Wood Brothers heavily inform our groove and are well represented in our repertoire.  Geebs, Ward, Mike, James and me are a copacetic gathering of like minded musicians bringing you the best, most danceable, most interesting and highly satisfying live music experience.  
Come join the party!
www.mafondueband.com
All Gerle, All Merle.  What a party! Gerle Haggard is 8 women that can really burn it up on their instruments playing choice selections from the large and interesting repertoire of Merle Haggard.  We play fun and energetic live shows where dancing, having fun and getting your country on are the real deal.  
Yeehaw!
www.gerlehaggardband.com
Hey Kids, Let's put on a show!